Tacrolimus New Test Launched in Agra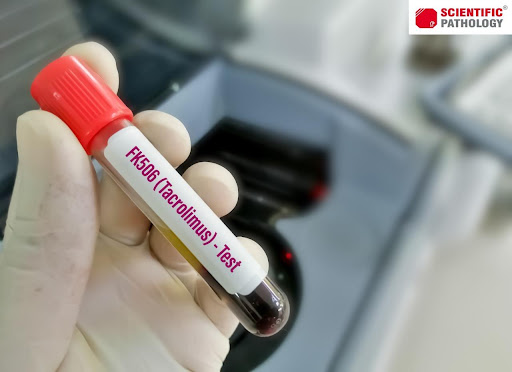 Health & Wellness
GENERAL
One of the most important things everyone wants from life is good health which many of us practice or hope to practice by inculcating different habits and maintaining a moderate lifestyle. Eating well-balanced meals, exercising regularly, limiting vices, practicing healthy habits, getting enough nutrients, etc. are some things that we all do to maintain heathy body. But unfortunately, these practices might not prevent an ailment as one might get an illness due to completely unrelated factor! Which is why it is extremely important to get regular diagnostic tests at the top pathology laboratory in Agra, Scientific Pathology.
Scientific Pathology's Tacrolimus Test Launch!
Apart from lifestyle related reasons, one might also get an illness due to genetic reasons, side effects of another ailment, environment or medication or due to completely unknown factors that might lead to the deterioration of the body leading to organ failure, in some cases which leads to the subsequent need of an organ transplant surgery. observation and regular diagnostic tests post-surgery as well as pre-surgery.
Tacrolimus is one of the most essential medications that is taken by a transplant patient in order to prevent new/transplanted organ rejection; it is basically an immunosuppressive agent!
Scientific Pathology's Tacrolimus blood test in Agrais a test that measures the levels of Tacrolimus in the transplant patient's blood to determine the amount of Tacrolimus and to check if it has reached optimal therapeutic levels as well as to keep in check that the levels are maintained below toxic levels. This blood test is done before the patient is put on therapy and is measured in 'Trough Level'. The blood test specimen has to be collected 12 hours post the Tacrolimus medication dose or immediately before the drug is taken so that the levels are at the lowest during the sample collection.
The Tacrolimus immunosuppressant drug is given to the transplant patient so that their body doesn't reject the new organ and accepts it with optimal trough levels and also maintains the body's basic functioning while avoiding toxic levels as it could harm the body. Scientific Pathology is one of the best diagnostic centres and the largest in the entire state of Uttar Pradesh that has the launched new Tacrolimusblood test in Agra. Download our mobile app and book for an appointment conveniently!