Launched - VITROS -7600 Dry Chemistry Analyser First Time in Agra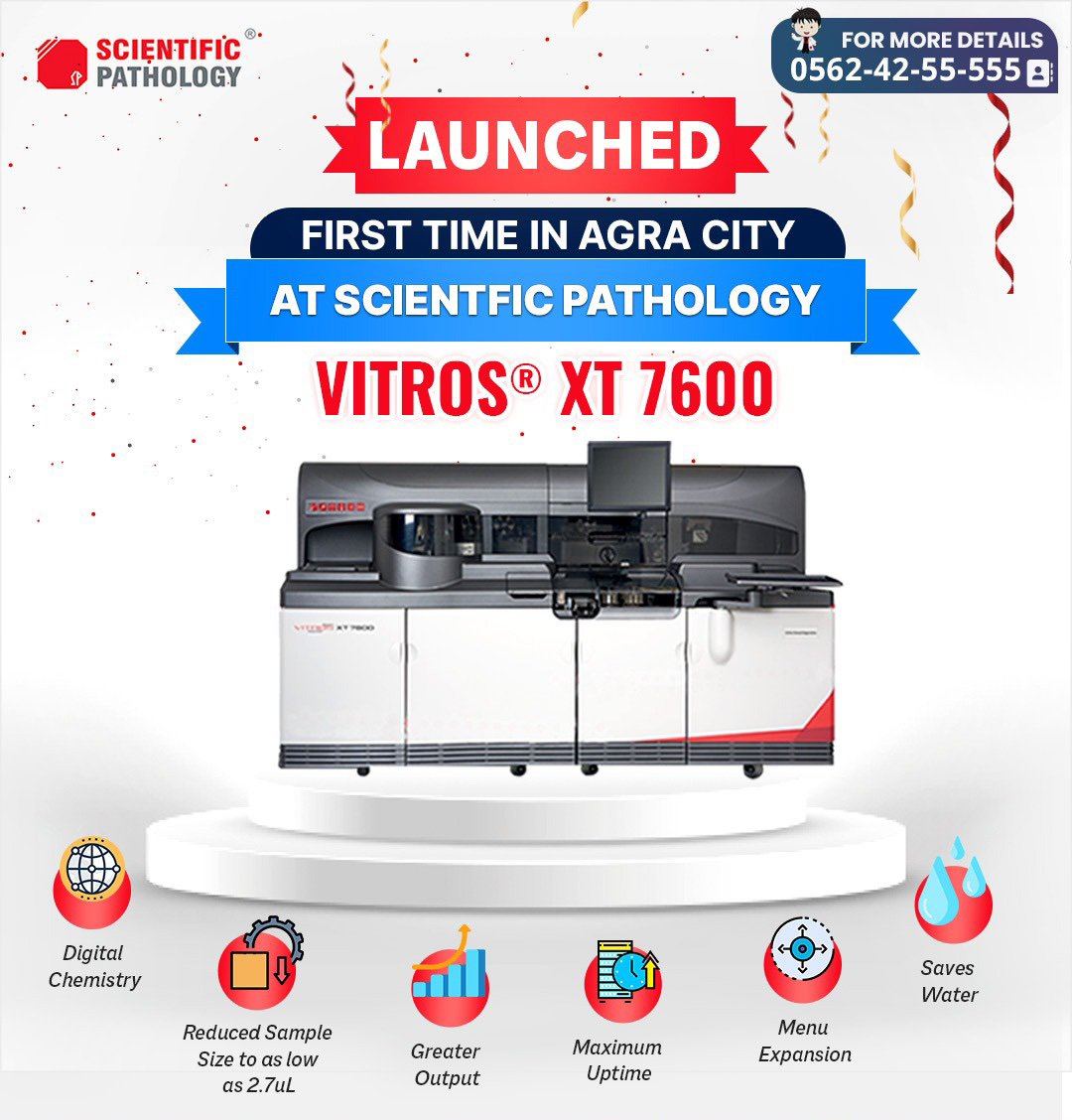 Health & Wellness
Diabetes
LIVER
KIDNEY
As important as it is to get regular diagnostic tests, it is also important to get those tests done at only the best of the best pathology labs for accurate and timely results as well as an easy and stress-free process.
We, at Scientific Pathology, operate and function in order to give you the best of the services through error-free results, a smooth process, convenient booking, wide range of tests from pathology, imaging and other diagnostic tests, home sample collection options which is perfect for COVID-19 test, sample pick-up points, LABMATE.net ERP LIMS software, NABL accreditation, modern analysers and testing equipment and much more! What makes us the best pathology labis all the above along with our very own mobile app that allows you to book for your diagnostic test appointment in a quick and convenient manner!
Being the largest diagnostic centre in the entire state of Uttar Pradesh, Scientific Pathology is also the first centre that has launched the VITROS - 7600 Dry chemistry Analyser for the very 1st time in Agra. A dry chemistry analyser is an extremely important equipment that is used in clinical diagnostic laboratories.
A dry chemistry analyser is mostly used to assess different aspects of a patients' health like liver functions, cholesterol levels, blood glucose levels, etc. The dry chemistry analyser calculates the samples taken from the patient like blood serum, urine, plasma and other bodily fluids to find out the concentration of certain substances within the sample.
Scientific Pathology is the best diagnostic centre in Mathuraand the top pathology centre in Agra; it is the largest in U.P. and hence offers the most modern technology and the best equipment for the best diagnostic results. Having launched the VITROS - 7600 Dry chemistry Analyser in Agra, we have taken our technological advancement to a higher level.
The VITROS - 7600 Dry chemistry Analyser is a dry chemistry analyser which has its own advantages over the traditional wet chemical analysers. The wet chemical analysers require plumbing systems that are complex as well as high purified water in order to operate which makes it risky in terms of the water not being pure enough for the analyser to give out the best results. Scientific Pathology is the best pathology labas it has the latest equipment in the diagnostic world that results in accurate and error-free results. The VITROS - 7600 dry chemistry analyser eliminates the risk of having poor quality/impurified water which might affect the diagnostic results heavily, resulting in inaccurate results.