Importance of Premarital Test For Bride & Groom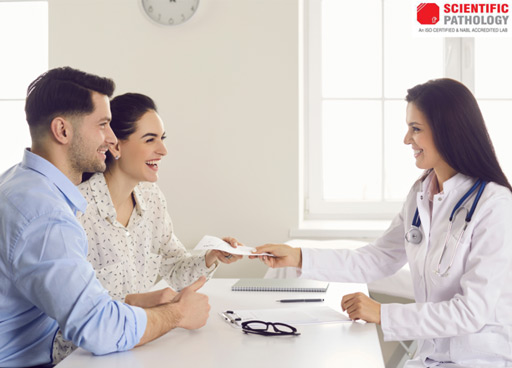 Health & Wellness
Before you say 'I do', say yes to the premarital screening for a healthier and prosperous married life! There are many things that a bride and groom have to get ready for before their wedding and these things are not limited looking one's best at their wedding but also being healthy together; the premarital test is essential for a to-be married couple, especially if they are planning on having children!
We, at Scientific Pathology, understand the concerns of a soon-to-be married couple and offer the premarital test screening at our diagnostic centre. You can book for the HIV test in Agrawith us, at Scientific Pathology, by simply downloading our mobile app for minimal interaction!
What For & Why to Get Premarital Testing?
A premarital test is helpful to rule out any issues! It is recommended for a couple to be tested for infectious and sexually transmitted diseases (STDs) before marriage; the STD test includes HIV/AIDS test, herpes, hepatitis C, syphilis and gonorrhoea which is essential as they can last one's entire life, have major complications in one's health, lead to other ailments and/or are fatal. Book for Scientific Pathology's HIV test in Agraas a part of the complete STD panel!
It cannot be emphasised upon how important the fertility test is for a to-be married couple as the marriage might completely depend on this aspect. Both, the male and the female must take this test to rule out any conditions; females can get the fertility test by consulting their doctor and men can get the sperm analysis test done with Scientific Pathology's SQA V Gold technologically advanced sperm quality analyser.
Along with this, it can be highly beneficial for a to-be couple to get a complete body assessment and full blood panel by booking for the CBC test and the full body health check-up in Agra.
It is recommended that, both, the bride and groom get screened to determine if there might be any chances that their future child might be born with genetic disorders. It is important to know this as it might help determine how one plans on taking the pregnancy forward. The genetic screening can help in identifying if the person has asymptomatic carries that might produce a symptomatic child in the future!
This test is essential when it is known that the bride or groom's family health history might increase the changes of the child having genetic disorders like Thalassemia (an inherited blood disorder).