Hb Electrophoresis - what, why, when, whom to test: Importance!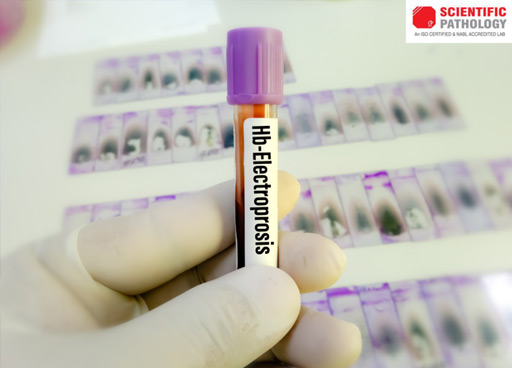 Health & Wellness
What is the HB Electrophoresis Test & Why is it Done?
The HB Electrophoresis test is a blood test that is used to measure the levels of the haemoglobin as well as abnormalities regarding the types of haemoglobin. The pathology lab will basically test and analyse your haemoglobin in your red blood cells in order to perform diagnosis to reveal if one has any conditions like thalassemia, sickle cell disease and other forms of rare haemoglobin disorders. This test is prescribed to test for ailments that occur due to abnormal haemoglobin production. Sickle cell anaemia is an inherited disorder in which the circular red blood cells turn into sickle shaped cells.
You can book an appointment at Scientific Pathology lab in Agra or check with the pathology collection center in Aligarhaccording to tour convenience; we, at Scientific Pathology have around 1000 different tests and many health packages that you can choose from!
When to Test for HB Electrophoresis and Whom to Test?
As a new born baby, there are several tests that they have to screen for to rule out certain ailments and to diagnose if they have any conditions. In this series of several tests, the HB Electrophoresis Test is done. The baby is screened for sickle cell anaemia as well as other haemoglobin disorders.
Not just for your baby but you can also book an appointment with Scientific Pathology for a full body health check-up in Agraor other diagnostic tests as prescribed or needed.
The HB Electrophoresis Test is mostly performed when your baby is between the ages of 9 months to 1 year. This test is usually performed as a part of a routine check-up for babies or can also be done when the child is feeling sick. The HB Electrophoresis Test will reveal if your child has the sickle cell trait or sickle cell anemia. It is best to get your baby tested for any Haemoglobin disorders early on by discussing with the paediatrician!
Keeping one's child healthy is something every parent strives for but while doing so, one shouldn't neglect their own health. If you are due for any path lab tests or have been delaying getting your annual check-up done, book an appointment with us at Scientific Pathology for a