Importance Of Nabl Accredited Lab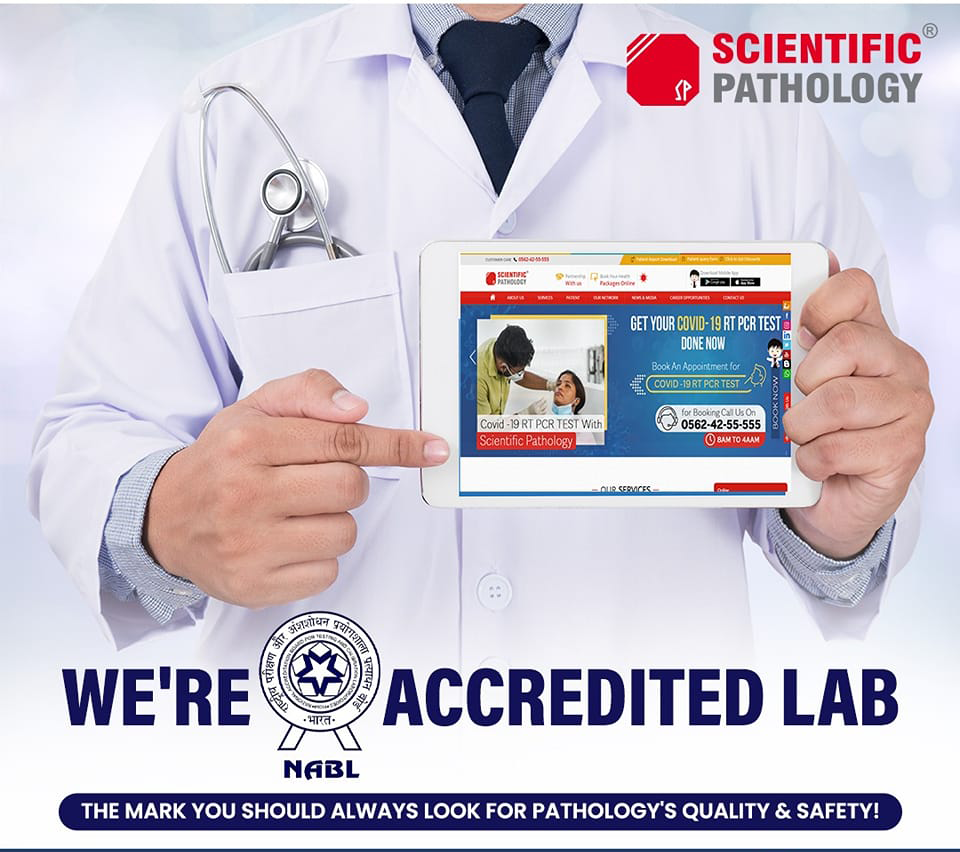 Health & Wellness
Diabetes
LIVER
GENERAL
Getting your diagnostic tests at a well-renowned and trusted lab is the most basic of requirements; for a laboratory to be one of the best in your city, certain certifications are a necessity. Blood tests, pathology tests, imaging tests and other diagnostic tests not only require dedicated doctors, skilled machine operators and a smooth operating system, it also requires the laboratory to be advanced, have world-accepted equipment and have world-class diagnostic services. We, at Scientific Pathology, have all the above and beyond, making us the best pathology lab. Founded in 1984 by Dr. Ashok Sharma, this pathological investigation lab is the largest in the entire state of Uttar Pradesh, India.
We provide a wide range of diagnostic services with a 1000 different, 1 fully-functional lab, 5 reference labs, 50 sample collection sites and also home sample collections.
Scientific Pathology: NABL & Other Certifications
One of the biggest achievements of Scientific Pathology to date is that its Quality Control Laboratories have received the sought-after NABL accreditation.
NABL: National Accreditation Board for Testing & Calibration Laboratories
An autonomous body that comes under the aegis of Department of Science & Technology, Government of India is what the National Accreditation Board for Testing & Calibration Laboratories is and for Scientific Pathology to have this prestigious and honourable NABL makes it the best of the best pathology lab. NABL is one of the highest honours to receive in the area of pathology laboratories which ensures the most-advanced of technology when it comes to equipment extremely well-maintained equipment that ultimately ensures the best of services.
The NABL is India's highest laboratory accreditation certificate and we have managed to ensure the certification and other achievements by assuring the consistency and quality of our diagnostic testing. Being the top pathology laboratory in Agra, Scientific Pathology lab has achieved the following:
Scientific Pathology is the 1st lab in India to get the International Standard in 2012: ISO 15189:2012- National Accreditation Board for Testing & Calibration Laboratories (NABL). It also received the revised International Standard in 2014.
Our pathology services also received the ISO 9001:2008 Quality Management System Certification.
VILAC 2009
Scientific Pathology is one of the best when it comes to diagnostic equipment, which is probably the most important item when it comes to diagnosis. All of Scientific Pathology's labs are well-equipped with in-house equipment which also carries out control testing on a regular basis to maintain the quality and consistency.