DR. ASHOK SHARMA
(Chief Executive Officer,Managing Director)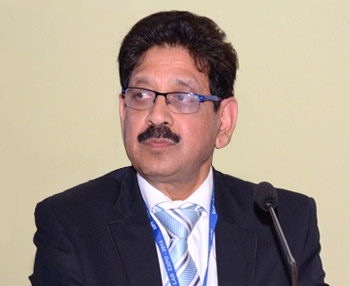 Dr. Ashok Sharma is the chairman and managing director of Scientific Pathology, most advanced, fully automated and a very respectful pathology in U.P state. Dr. Ashok Sharma, a pathologist with passion for hard work, vision to understand the future requirements, has element of taking high risks and motivates others to come along and join the journey or development with only one motive-Better Patient Care.
He did his MD in Pathology & Bacteriology in the year 1980 form S.N. Medical College, Agra. He had done his MBBS from the same college in the year 1977.
Under his expert guidance, Scientific Pathology has become one of the most reputed laboratories in U.P., having to its credit the highest certification and accreditation from the National Accreditation Board of Testing and Calibration Laboratories.
The lab has the capacity to test more than 1000 patients per day with its more than 5 labs spread all over U.P. and M.P.
He gives highly specialized tests at minimal prices to the poor people and also organizes social cause events for the weaker section of the society every year.
Ms. VINEETA SHARMA (HR Manager,Chief Operation Officer)
Vineeta Sharma is the Chief Manager Human Resource of Scientific Pathology. She has started her career as a customer care officer where in she played a key role in its setting up as well. She has done her masters degree in Human Resource and could translate her experience into practice. Apart from management knowledge she involved with the other aspects that are needed to run a department like quality of work, commitment towards the work, vision for the futuristic growth, interrelationship with other departments etc. She learnt the skill of multitasking which is a crucial requirement in today's working environment. As the organization grew, its needs changed with the changing market expectations.
She has given the opportunity to learn and upgrade her management knowledge and organizational skills. As part of her own personal development plan. She opted for a lateral move in the organization when she appointed as a manager H.R. in the year of 2012 along with an MBA and the move in H.R. She is now utilize her vast functional and operational experience in contributing more at a management level. Have now been promoted to Chief Manager Human Resource, In the year 2014 she has taken Certificate from NABL on International Standard( Internal Audit & Quality Management System for Medical Requirements on Quality and competence).Now she is looking after both the internal and operational area.
CA Rakesh Narang (Financial Controller)
CA Rakesh Narang a highly successful chartered accountant with excellent knowledge of financial reporting and accounting possesses 30 year experience. Expert in covering all aspects from start up business to financial management and company closures. He has completed his CA in the year 1977 from The Institute of Chartered Accountant of INDIA. He has started giving his services to Scientific Pathology in 1989 as a Financial Controller. Rakesh Narang is proficient in computation corporate, individual and taxes, corporate organizations, surplus distribution and cross boundary analysis etc.
Highly skilled in researching issues and finding solution and best alternatives to tax issues. Professional judgment dealing with the disclosure of information in financial reporting. Successfully planned and dealt with the income and capital taxes for various segments of Scientific Pathology. Rakesh Narang a name with highly enthusiastic and energetic personality, carrying positive attitude towards the Personal and Professional life. He is always well update with latest amendments.